Table Rock Lodge #680 Photographs
Click on image to see larger format
May 3, 2019 - Masons from Table Rock Lodge 680 present Blue Eye School with a check for $2,000.00 to be used for their backpack program.
Past Master WB Keith Oxby sent these photographs
This 120 foot high monumnent stands on Stoodley Pike near Hebden Bridge in Yorkshire, England. In the northeast corner I found the Square and Compasses underneath the Hexalpha Star. The monument was built in 1854 to commerate the the end of the Crimean War and it replaced an earlier one built at the end of the Napoleonic wars.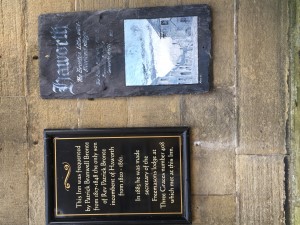 This was at the top of Haworth main street. Haworth is the town in Yorkshire that The Bronte Sisters lived (Wuthering Heights etc) with their brother Branwell.
Past Master WB Keith Oxby sent these photographs
Oxburgh Hall in Norfolk, United Kingdom was originally built in the 15th century by the Beddingfeld family who were staunch Roman Catholics even during the reign of King Henry the VIII when they maintained a "Priest Hole" where illegal Catholic Priests hid. The house now is run by the National Trust although the Beddingfeld family have a 100 years lease on a set of appartments
Hanging on the walls include two needleworks of Mary Queen of Scots, referred to as the Marian Hangings. There were also two tapestries depicting King Soloman with the Queen of Sheba which were woven in 1260. Here is a link to an article from the Grand Lodge of British Columbia relating to this meeting
Sondes Masonic Lodge in Dereham, Norfolk, United Kingdom
This the local Lodge to WWB Keith Oxby who recently returned to the "old" country
Sondes was chartered in 1864 and they have been in the same building since that time, although this same building was originally a church. Presently they only have about 40 members and numbers have dropped in recent years like a lot of provincial Lodges. The upper floor is the meeting room and on the floor below is a dining room.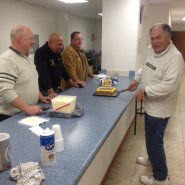 Happy Birthday WB Pittman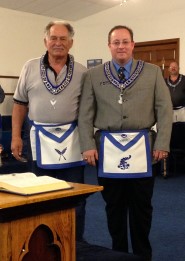 Congratulations to Brother Charlie Huston (right) for a word perfect Proficiency in the 2nd Degree
Charlie was examined by RWB Chuck Pittman (left) - 14 October, 2014
September 23, 2014 - Presentation of 50 Year Award to Brother Larry Gault
Installation of 2014-2015 Officers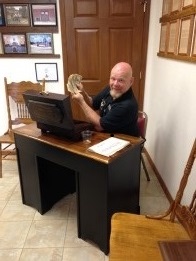 The stand-in "money taker" doing a bit of counting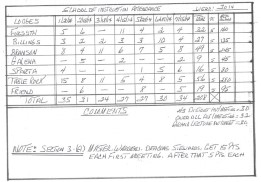 1600 Achievement Points for Schools of Instruction attendance
Well done Table Rock Lodge and all those Brothers who attended the Schools of Instruction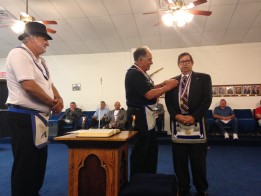 June 10, 2014 - Presentation of 40 Year Award to WB Rob Fuqua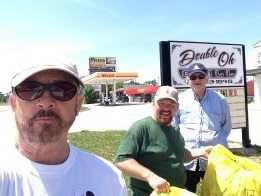 May 19, 2014 - Highway 13 road cleanup with a very small but willing crew. Most common items were Coors beer cans but we also found two American flags, two cell phones, one syringe and a book on German Tanks.

April 29, 2014 - Education Night - A presentation by RWB Chuck Pittman on the Degree of Master Mason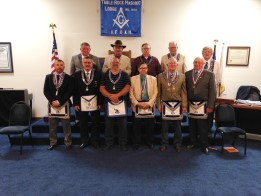 Past Masters Night 2014
Table Rock celebrated Saint Patrick's day 2014 in style with an incredible meal of Corned Beef and Cabbage prepared by Paddy Yoda.
After the meal and prior to the State Meeting the Lodge presented a 40 Year Pin to Brother Danny Moore
Table Rock Lodge hosted a benefit in aid of a wonderful 15 year old Reeds Spring young lady who is battling Leukemia. Within minutes of the Lodge opening its doors, the parking lot was full and the local community was digging into a great spaghetti dinner. Brother Joseph Meyer raffled the opportunity to shave his full head of hair, the raffle was won by his sister.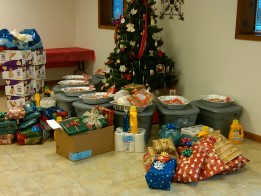 As part of a Community Outreach Program, Table Rock Masonic Lodge #680 of Kimberling City, purchased clothing, gifts and food supplies for eight families in the Stone County district. The supplies included a complete Christmas Dinner for families of up to eight, additional canned goods, toiletries and basic household needs. The children each received a complete set of clothing including winter coats and shoes in addition to a few gifts in accordance with their individual wishes. Some families even joined the Masons on shopping expeditions.
Christian Associates of Table Rock Lake provided details of families in need of help and their particular requirements.
The 2013 Outreach Program was boosted by a Partnership with the Masonic Home of Missouri who matched Table Rock Lodge's spending. In 2012 the Lodge was able to help five families with a total of ten children and this year with the partnership of the Masonic Home this was increased to eight families with a total of twenty two children with an age range of 1 month to 16 years.
The items were wrapped and will be distributed over the weekend before Christmas.
Snow on the ground didn't stop the Combined Christmas Dinner with the OES being a great success
Scott Meyer's "Smokin" Train and the excellent Pork Butts which came curtsey of Greg Yoder's dog Jake, the "Hog Hunting" Mastiff. Scott and Greg helped produced an excellent meal that was then devoured by Members and their guests at our Founders Celebration Dinner on Saturday October 19, 2013.
Icream Social - June 23, 2013
Concreting of the Parking Lot - Stage Two (June 15, 2013)
Concreting of the Parking Lot - Stage One (June 5, 2013)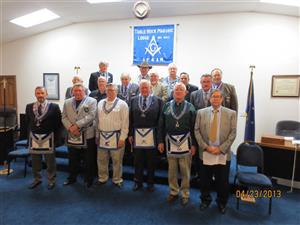 Past Masters Night 2013